Restaurants & Cafes
Cafes, restaurants, pubs, bars, taverns, fast food and even food carts. You can find it all displayed here. Listings are submitted by operators so be sure to check out the details.
American Food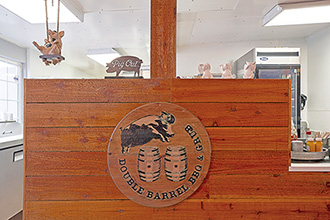 Featured
Double Barrel BBQ & Grub brings fresh, scrumptious food to the area. Come for the local delivery during breakfast, lunch, and dinner!
Read more
Address: 732 Point Brown Ave NE Ocean Shores, WA 98569
Phone: 360-500-5872
Hours: Open Wed - Thurs 3pm - 8pm Friday 11am - 8pm, Saturday & Sunday Breakfast 8 am - 11am Open till 6pm Closed Mon & Tues
Email:
Website: TheDoubleBarrelBBQ.com
Bakeries
Kookamunga's is temporarily closed.
Read more
Address: 668 Ocean Shores Blvd #10, Ocean Shores, WA 98569
Phone: 360-712-6711
Hours: Temp. Closed
Email:
Website: Click Here
Broadcasting
Featured
The first fully licensed Low Power FM radio station in Western Washington, KXPB-LP is proud to serve the Northwest region of Grays Harbor County with its staff of volunteer on-air personalities.
Read more
Address: 481/2 Main St, Pacific Beach, Washington 98571
Phone: (360) 276-0600
Email:
Website: KXPBRadio.com
DETAILS: We work to post all information to this website and other websites that fits with the goal of those websites. By submitting information you are authorizing the publisher to include your data which may be edited as Publisher deems necessary. Please allow a reasonable amount of time for response.Not all submissions will be included and generally notification will not be sent indicating acceptance or refusal. Once submitted requests for deletion can not be honored.